Schrock Innovations was recently nominated for Innovator of the Year by the Greater Omaha Chamber of Commerce for our work on Secure Updater, a software package that automatically updates common third party software. Here is a letter from Jim Suttle regarding the nomination:
Schrock Innovations was recently featured in the Midlands Business Journal for our work on Secure Updater and our plans to branch our web development services into a separate division called Schrock Interactive. Here is a transcript of the article:
Almost two and a half years ago, Lincoln-based Schrock Innovations Computer Co. was on the verge of opening its Omaha store and was just beginning to lay the groundwork for its Papillion Service Center. Now the company's newest two metro locations are experiencing triple-digit growth, and CEO Thor Schrock and his staff have still made time to spin off Web design/consulting services into a separate division -- Schrock Interactive.

The company is also rolling out a program that bridges the "gap" between outdated software and anti-virus protection, as leadership explores bringing to the marketplace what, at first glance, sounds like the stuff of science fiction: 3-D printing.

"We've been looking for a way to do something different with our computer line, something to complement our lines," Schrock said, when walking through a potential partnership that could result in their driving printers that can make three-dimensional, solid objects from a digital model.

The aforementioned lines for the business that got its start in the capital city almost 15 years ago, include more "standard fare" for a computer company -- like on-site and in-shop computer repair, data recovery and visual help desk services -- but, as evidenced, the firm hasn't been afraid to be the first when it comes to new lines and products.

"Our growth is really tied to two critical things: One is systems and planning... and the second thing is product innovations," Schrock said, noting that the latter wasn't as present two and a half years ago as it is now, indicating that he has delegated tasks to team members as a means of seeing the forest through the trees.

To its innovation, Schrock said his business was the first in the state to offer Windows XP, for example, and now it's among the first companies to tout what's called Secure Updater, described as helping to bridge the gap between one's outdated software and anti-virus protection by "silently updating" key applications on the customer's computer.

"We developed a new system to keep our customers' computers safe," he explained. "It's a program that monitors 26 of the most commonly downloaded software programs."

Such common programs span the likes of Firefox, Google Chrome and Dropbox, and the need for such a solution, according to Schrock, was in direct response to what he called a new "threat vector" that involved a widespread breach and prompted U.S. security officials to suggest users disable Java.

Importantly, Schrock said that if he had his "head in the weeds," so to speak, trying to "fix" viruses, he wouldn't have had that "aerial shot" to see the big picture problem necessitating the development of what is now a fast-growing product -- with 20 of 25 customers approaching his team with concerns over infections, whereas the normal rate of suspect computer infections might be three of every 25 customers.

In another nod to its focus on solutions that will give Schrock Innovations a competitive edge, as opposed to getting caught up in the data to day, the CEO said they're splitting the Web design portion of the business into a separate division -- Schrock Interactive.

Schrock highlighted that to be able to design an effective site, one has to get to know the business.

As an example of its partnerships on this front, Schrock discussed how it was suggested that a local bankruptcy firm offer a free consultation on the Web to help get people through the door.

The consumer could type in responses in various fields (i.e. debts, assets), with the form submitted online and returning a review that would cover just about any scenario possible, with the important actionable item attached to it to encourage face-to-face attorney consultation: "Contact us within seven business days, and we'll give you a 20 percent discount on the fees."

Considering the cost of more, perhaps, traditional types of advertising that may not be as effective in bringing clients to the door, Schrock indicated the owner, who was formerly sheepish about leveraging the Web in this manner, warmed up to this new approach.

New products may be one way to vividly see how the business has grown, but its growth is also represented by its three locations: its most "mature" service center at the southeast corner of 27th and Pin Lake in Lincoln, its Omaha Service Center near the heart of the Village Pointe shopping center at Village Pointe South and its newest offering -- they Papillion Service Center located near the busy intersection of 72nd and Highway 370.

"When we opened the Omaha location, the primary marketing we had was our radio show on 1110 KFAB," Schrock said, referring to "Compute This!" whereby he answers calls and emails from listeners with computer questions on the weekend. "It was a 'controlled experiment in expansion.'

"We had never really attempted to replicate the success we've had in Lincoln on the same scale."

Yet, while its Lincoln store has matured to the point where it has customers who come to them for every computer need (with, less frequently, new customers) these locations were all about attracting new clients to the Schrock brand of computer consultation -- with some "cannibalization" of clients, he noted, from the West Omaha store to the Papillion store when it opened as he said the newest location was getting customers from new areas like Bellevue and Council Bluffs.

And, while Schrock noted they have weekly meetings to discuss items 9such as why a $150 sale might have been lost), it's hard to, as he put it, "nitpick" when the locations are up 100% year-on-year.

This is after what he had called a "slow start" in the market, with coupons available to new customers offering a free first hour on repairs to get individuals through the door.

"It's paying off in the long run, as our clients go back with their fixed computers and lead their friends and family to come in," he said.

While Schrock hinted at another store to come, he also said he was "prohibited by marital fiat" from opening another location in 2013, joking that his wife had essentially said if he valued his marriage he wouldn't expand the business this year.

"We tripled the six of the company in two years," he said, indicating the challenge of two new centers in quick succession while nurturing its pioneering location in Lincoln.

He also indicated that, instead of opening another location, the team has been able to focus on its processes, such as instructing staff to handle situations whereby Schrock himself might have put out the fires in the past, as staff members have the authority and tools to do so and more efficiently solve problems self-reliantly.
Schrock Innovations has been nominated for the Greater Omaha Chamber's Innovator of the Year Award! This is an award recognizing innovators who are creatively making a difference in their field.
Schrock was one of three finalists for the award designed to honor companies who are applying new ideas and technologies to solve customer problems in the marketplace.
This is Schrock's first nomination for this award and it was an amazing honor to be recognized along side companies like ConAgra Foods, Goodwill Industries, and Nobbies Party Superstore.
Our nomination was based upon our latest new product, Secure Updater.  Secure Updater is a software program that automatically and silently updates the majority of common third-party programs you have installed on your computer.  This reduces virus and malware infections and saves Schrock customers thousands of dollars annually in computer repair expenses.
For the second consecutive year Schrock Innovations has been voted Omaha's best business to business computer solution provider in B2B Magazine's latest survey.
Schrock Innovations primarily serves consumers through its three Nebraska-based Service Centers, however a growing percentage of the company's business is coming from other businesses.
In 2012 Schrock experienced dramatic growth in its Website Development Division.  The growth was so explosive that Schrock Innovations decided to spin off an entirely separate division to handle the increased demand called Schrock Interactive.
Two additional employees were added to the existing web development staff from Schrock Innovations as demand for repair and website services continues to exceed expectations.
Other B2B increases in 2012 included Schrock's Corporate Services contract division and business subscriptions to Secure Updater, the company's automatic software updating application.
If 2012 was any indication, 2013 is going to be another year of dynamic growth for a Nebraska-based company that was started in an attic 14 year ago.
This morning the Omaha World Herald ran a news story on how computer users can protect themselves from the latest software vulnerability in the widely-used Java framework.
Oracle released a patch that repaired the vulnerability last Sunday and the World Herald wanted to know if that was the end of the situation.  Thor Schrock, CEO of Schrock Innovations, told the reporter that the update would end the situation for anyone who takes the time to install it.
Unfortunately many people will simply not do it.
When Oracle releases a patch for Java it uses an automated update checking system that is installed on a user's computer.  This update system allows Oracle to distribute the patch in a controlled way as efficiently as possible.  For example, if everyone went to Java's website to get the patch at once, the server may not be able to keep up with the demand.  The automated download system allows Oracle to stagger the release of the patch over a number of days.
As a result of the delay from the automated update system, your computer could go days before receiving a successful update.
In addition, for the update to complete the user must authorize the update to install once it has been downloaded.  This is usually represented by a pop-up window asking to install a Java update accompanied by an orange coffee cup in the taskbar by the clock.
Many users are so distrustful of "pop-up" updates that they simply close them rather than taking a chance that something will infect their PC.  Unless the patch is installed the vulnerability will remain.
One of the recommendations in the World Herald story was installing the free trial of Secure Updater on your PC.
Secure Updater automatically and silently updates Java as well as more than 20 other common free third-party applications like Adobe Flash, Reader, Dropbox, and many others.
If you are not sure if you have the latest version of Java installed on your PC, install Secure Updater and let the free trial get you up to date.  If you decide to subscribe to the Secure Updater service after the trial expires it is $49.99 for the first year and $24.99 to renew annually after that.
This weekend Schrock Innovations brought it's new data center online in Sarpy County.  The new data center is clocks in at over 50,000 square feet with multiple power, internet, and redundancy options all designed to keep Schrock system and client websites online at all times and responding quickly.
The move brings Schrock' software hosting and development business home to Nebraska after spending 5 years partnered with Dallas, TX based Rackspace.
"The move from a managed hosting platform at Rackspace to a local solution where Schrock technicians can actually put hands on the appliances will help us provide faster service for our clients and subscribers," Schrock Innovations CEO Thor Schrock said. "You can't do what we do on GoDaddy or DreamHost.  You have to have the real deal."
As Schrock's portfolio of client websites continues to grow, the company's Secure Updater product gains in popularity both locally and nation-wide the ability to quickly boost connectivity, storage, and capacity was absolutely critical.
The new Schrock Data Center has the capability of flexing in over 1,000 processors, over an Exabyte of redundant storage with 14-day backup retention, and hundreds of gigabytes of RAM.
The data center is still undergoing testing, but should be operational and available to Schrock clients by the end of July.
The U.S. Small Business Administration has recognized Schrock Innovations, Inc. as the District II Small Business of the Year for 2012.
Each Year the SBA selects a business in each local market as a model of success, sustainability, and profitability.
While the award does require solid fiscal performance, other criteria are taken into account as well.  Candidate companies were also judged on their involvement with the local community, charitable contributions, innovative products and services, and overcoming adversity to find success.
The award ceremony was held in Omaha, NE and was attended by the Papillion Mayor David Black, representatives from Senator Mike Johann's office and Congressman Lee Terry's office.
Schrock Innovations has won multiple Best of Lincoln awards, Best of Omaha awards, and was the Nebraska Retail Federation's 2009 Service Business of the Year award winner.  This is Schrock Innovation's first Federally sponsored award.
For the 10th year in a row, Schrock Innovations' customers have voted Schrock the #1 independent computer repair company in Lincoln.
The Best of Lincoln is a web-based survey of consumers in Lincoln and surrounding communities.  Visitors create an account on the Best of Lincoln website and vote for the companies of their choice.
The polling is conducted and monitored by Spartan Polling, an internet-focused consumer opinion market research firm and are conducted over the course of a month.
Schrock Innovations also won the Best Computer Repair of Omaha Award this year conducted by Omaha Magazine, KMTV, and ValPack after only one year in our new Omaha Service Center.
It means the world to us that our customers took the time to vote for us in the survey.  Awards are recognition for past accomplishments, so rest assured our focus is on providing the award-winning service our customers have come to expect in 2012.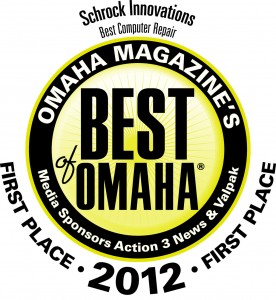 Schrock Innovations is proud to announce that thanks to the votes of our satisfied customers, we have won first place in the Best of Omaha Competition for computer repair.
The Best of Omaha is a competition sponsored by Omaha Magazine, KMTV Channel 3, and Valpack where consumers log into the Best of Omaha website and vote for their favorite local companies in every imaginable category.
Voters' accounts are confirmed by both IP address and email address to prevent automated voting or ballot stuffing.
Open for a Year and Already Best of Omaha
Schrock has won Best of Lincoln every year since 2001 in Lincoln, so we are familiar with the "Best of" awards and the weight they carry with consumers.
The voting for this year's Best of Omaha happened in the fall of 2011 - right about the same time as the one-year anniversary of our new Omaha Service Center at Village Pointe South.
When I do the weekly radio shows and explain to my listeners that Schrock is different because we do care about our customers. We are thrilled when they are thrilled and if a customer is not happy with our work we do everything we can to make them thrilled.
Winning this Best of Omaha Award is a validation of our efforts, and we will continue to work hard to earn your votes again in 2012!
The Omaha World Herald visited Schrock Innovations' Papillion Service Center to visit with Thor Schrock about the impact that Thailand flooding is having on the availibility of hard drives this holiday season.  The text of their story follows:
A bad dream is playing out in Thailand and turning into an unpleasant and costly reality for Midlands computer retailers and repair shops.

The Southeast Asian country, which is grappling with the effects of devastating flooding and evacuations from its largest cities, is home to many of the world's largest computer hard disk drive manufacturers, including Western Digital, Seagate Technology and Toshiba Corp.

Over the last three months, floodwaters have crippled hard drive manufacturing facilities, bringing hard disk drive and component production to little more than a trickle. Hard disk drives are about the size of a small book and serve as the main storage components in computers, holding information about the machine's operating system and other software.

Analysts and computer store owners who serve Nebraska and Iowa say the shortfall of hard drives is going to take its toll on the holiday shopping season and could last well into 2012. The issue could mean disappointment or lighter wallets for consumers planning to give certain electronic gifts.

"It's a nightmare scenario for us," said Thor Schrock, owner and CEO of Schrock Innovations, a computer retailer and repair shop with locations in Omaha, Papillion and Lincoln. "And it's only going to get worse."

At the beginning of November, Schrock said, hard disk drives already were becoming so expensive at wholesale prices that he spent $27,000 at Office Max and bought as many hard drives as he could.

"We cleared out three of their warehouses," Schrock said. "In order to get to the end of November, we needed more hard disk drives."

Hard drive prices have doubled since mid-October, Schrock said.

He said there may not even be enough available hard drives to maintain a predictable inventory, especially of low-priced netbooks.

"As a computer retailer, this is our big time of the year, and if we can't get hard drives, we can't sell computers," Schrock said. "And if we can't sell computers, we can't service computer parts, either."

Fang Zhang, an iSuppli analyst, wrote in a research note that Western Digital will likely be knocked from the No. 1 perch of hard disk drive producers because of the flooding. Zhang also predicts that the shortage will become more serious at the end of 2011 and pour into 2012, at least through the first quarter.

During that time, shipments are expected to decrease 30 percent, causing prices to soar, Zhang said.

Darby Deeds, owner of Computers To Go in Bellevue, said in mid-October he made an order for 500-gigabyte hard drives, which are used to build and repair computers, for $40 apiece. As of Friday, the same drives carried a price tag of $99.

Across the board, consumers buying computers as gifts this holiday season should expect that to translate into at least a 10 percent price hike on all computer purchases, he said.


With that inflation sending the prices of PCs upward, Deeds said he has noticed that his sales to business clients, which include some sales to Offutt Air Force Base, haven't slowed. He expects that to continue through the shortfall.

"Their reaction has been — 'We've got to have it,'" Deeds said. "They're not changing anything."

General retail consumers, however, are exhibiting more patience, Deeds said.

That spells bad news for Nebraska Furniture Mart, one of the area's largest electronics retailers.

Bob Batt, executive vice president at the Berkshire Hathaway-owned Furniture Mart, said the disaster in Thailand reminds him of the catastrophic earthquakes and tsunami that blasted Japan and disrupted electronics supply chains earlier this year.

"We're not expecting good things," Batt said. "We're monitoring the situation and will take the appropriate action. It's that kind of a deal. Time will tell."

Computer companies that have been pinched by weak demand in the United States and Europe are bracing for the hard drive shortage to compound those issues.

Analysts have said that the drives that are available will first go to companies with top priority, like Dell and Hewlett-Packard, for example.

Still, those producers remain concerned. In a statement, Dell said that it anticipates hitting the low end of its fourth-quarter revenue projections because of the disaster in Thailand.

The industry prioritization, however, means companies like Acer and Asustek, both of which make cheaper netbooks and desktops for consumers with a tighter budget, are more likely to get shorted in the supply chain.

"The situation is severe, but the exact timetable for a full recovery is unknown at the current time," Acer said in a statement. "There will definitely be price hikes for HDD storage, but the magnitude is uncertain for now and would most likely be transferred to end users."

Apple officials have said they expect an industrywide shortfall, but aren't sure how things might play out for their company.

"Like many others, we source many components from Thailand," Apple's chief executive Tim Cook said during a conference call with analysts and journalists. "It is something that I'm concerned about. How it affects Apple, I'm not sure."

The devices that could get a boost from the Thai disaster are laptops and devices that run on solid state, or flash, memory. Most mobile devices and tablets run on solid state memory, which doesn't have moving parts like a hard disk drive, and an increasing number of laptops, including Apple's Macbook Air, use solid state because it's typically quicker and smaller.

Schrock said that although tablets like the Apple iPad are already popular, the Thai floods could push more consumers in that direction rather than spending more on overpriced PCs.

For now, though, those affected by the supply chain disruptions aren't throwing in the towel on this holiday shopping season.

"It's not pretty, but we just don't know what's going to happen," Batt said. "Bad news comes along from time to time, and this is one of those times."
The 2011 Holiday Special has arrived at Schrock Innovations and this year's model is pure computing Joy.
The Holiday Special Desktop model is a complete package that includes the tower, monitor, speakers, and a keyboard and mouse. Click here to download the Holiday Special Desktop and Laptop Catalog.
Of course, the 2011 Holiday Special Desktop model is a Modular PC which means it will grow with you for years to come.
This year's model includes a number of new technologies that offer amazing future growth potential:
AMD's New 8-Core Zambezi Processor
16 GB of High Speed DDR3 Memory
2 TB of Hard Drive Storage with Adaptive Intelligence Technology™
23" LED High Definition Display with Speakers
Keyboard and Mouse
Blu-ray / DVD-RW Combo Drive
Windows 7 Home Premium 64-bit
AMD Zambezi 8-Core Processor
This year AMD set a new world record when their 8-core Zambezi processor (codename Bulldozer) was overclocked to an amazing 8.47 GHz.
Of course they used liquid helium to keep it cool.  If you don't have an liquid helium handy we think you will find that 8-cores running at over 3 GHz each will be more than enough for even the most demanding user.
Adaptive Intelligence Hard Drive Technology™
Schrock Innovations is the only computer maker in the world to offer a new hard drive technology called Adaptive Intelligence™ .
Solid state hard drives have no moving parts and have been proven to dramatically increase the speed and responsiveness of a PC.  However their high cost coupled with reliability issues at times makes them prohibitive to many users.
Adaptive Intelligence Technology™ offers the best of both worlds by combining a 4 GB solid state drive with a high-speed 500GB rotating disk hard drive.  Adaptive Intelligence learns which files you use most often and saves copies of them on the solid state partition for fast access next time.
The result is solid-state performance with the cost effectiveness and reliability of a rotating disk hard drive.  Learn more about Adaptive Intelligence.
Safe and Stored™ Backup System
The Schrock-exclusive Safe and Stored™ Backup System eliminates the need for clumsy external hard drives or backup DVDs because you always have a complete backup stored right inside your Modular PC!
The Safe & Stored™ Backup System takes a weekly (or more frequently if you prefer) complete image of your hard drive and saves it to a second hard drive installed inside your Modular PC.
If your main hard drive ever fails, a mirror-image of your programs, settings, devices and data can be restored to a new drive like nothing ever happened!  Learn more about the Safe & Stored Backup System.
The 2011 Holiday Special Desktop is a Massive Value
The 2011 Holiday Special Desktop is by far the most advanced computer we have ever built at Schrock Innovations.
This machine is so cutting edge that Schrock is the only computer maker offering much of the technology contained in this system.
The closest thing Dell can build to this machine is a $6,500 high-end performance system.
If you have your heart set on 8-cores of performance you can look at a high-end Apple Power Mac equipped with dual 4-core processors that retails for a cool $5,500 for the tower alone.
Compare those prices to the 2011 Holiday Special available while supplies last for only $1,499.99 and you will understand why we can only build 150 of these systems this year.
Anyone who has experienced data loss knows that awful feeling you get in the pit of your stomach when you realize your important information is gone forever.
People invest hundreds of dollars in backup hard drives, online backup services and DVD-R disks to try to prevent the loss of irreplaceable information.  Despite everyone's best efforts data loss still strikes because backup schedules are only as good as the people who run them - or forget to run them.
Introducing the Safe & Stored Backup System from Schrock Innovations
For the first time ever you do not need to back up your computer to an external hard drive or DVDs because your backup drive is built right into your computer.
The Safe and Stored Backup System backs up your computer's main hard drive to a secondary hard drive right inside your computer.
There are no drives to hook up, no disks to maintain and no schedules to set.
How Does Safe and Stored Work?
Once every week (or more often if you would like) the Safe and Stored Backup System takes a complete image of your hard drive including your programs and Operating System files.
If your hard drive ever crashes, a mirror-image of your data can be restored to a new drive.  All of your programs, settings, files, and devices will automatically work just like they used to.
How Does Safe and Stored Compare to Online Backup?
Online Backup with services like Mozy or Carbonite are great if you need an offsite backup of your data files.
However, many people don't realize that these online services don't backup video files or files over 2 GB in size unless you specifically include each file individually in your backup.  Also, in the event of a drive failure it can take over three days to download your recovered files!
The Secure Updater is a complete backup of your entire drive.  Because it is stored right inside your computer it is faster to restore you have complete control over your data at all times.
Call Schrock Innovations or stop in to see the Safe and Stored Backup System in action today!
Every computer you have ever owned has slowed down over time.
Some of the slow down is the result of normal use, but the majority of performance erosion is the result of evolving software that demands more and more of your computer's limited resources.
As you receive updates for Windows or the latest and greatest hew hardware devices, the software that powers them taxes your computers' resources and results in slower performance.
Computer Hardware Speed vs. Software Demands
Over the past few years computer memory and computer processors have become exponentially faster.  These gains have allowed computers to run more and more complex programs
The only component in your computer that has not seen a significant performance boost is your rotating disk hard drive.  The 7200 RPM hard drive has been around in various flavors since 2003.
Solid state hard drives offer near-instant boot times and lightning fast speed - but at a significant cost.  Solid state drives offer small storage capacities at a cost six to eight times more than the older rotating disk models.
Schrock Innovations' Adaptive Intelligence Technology give your computer the best of both worlds at a budget friendly price.
Solid State Performance at Rotating Disk Price
Some of Schrock Innovations' latest Modular PCs are equipped with 500 GB Adaptive Intelligence Hard Drives.
These cutting-edge hard drives are a regular-old 7200-RPM hard drive equipped with a 4 GB solid state partition.
As you use your computer, the hard drive monitors which files you access most often.  The drive then saves a copy of those files to the solid state partition for faster access.
As your computing habits change, the solid state partition automatically updates with the files that will give you the best user experience.
All of the calculations are done by the drive's firmware which means file cataloging and usage computations are all done on the drive itself.  Adaptive Intelligence Technology doesn't slow down your computer's memory or processor, but does provide up to a 1000% hard drive access speed increase.
Improved Reliability
Solid State drives are the holy grail of data storage performance, but their lightning fast performance also comes with a down side.
In the event of a drive failure, data recover, while expensive, is possible on rotating disk drives.  Solid state hard drives have no moving parts and are comprised of a number of memory chips.
A solid state drive failure usually results in a complete loss of data.
Because drives equipped with Adaptive Intelligence Technology save copies of commonly used files on the solid state partition, in the event of a drive failure standard data recovery techniques can be used to recover your important information from the rotating disks.
Only Available at Schrock Innovations
Adaptive Intelligence Technology is only available in Schrock Innovations' Modular PCs and modified notebook computers.
Certain models come with the technology included, but can be added to any computer purchased at Schrock Innovations.  Contact Schrock for more information about a computer equipped with Adaptive Intelligence Technology today!
Schrock Innovations was voted as Lincoln's #1 independent computer repair company in the Three Eagle's Best of Lincoln Survey for 2011.
Schrock has historically done well in the web survey of Lincoln residents since 2001.  Participants participated in the voting process by writing in their recommendations using a web form provided by Three Eagles.  The votes are then tabulated and verified by a Spartan Polling, an internet-focused consumer opinion market research firm, to ensure their validity.
Voting took place in June of 2011.
"The best of Lincoln survey is the single most reliable measurement of top-of-mind awareness in Lincoln," Thor Schrock, CEO of Schrock Innovations said.  "While Lincoln has grown considerably over the past 10 years in many respects the city is still a tight-knit community where word of mouth recommendations mean a lot."
At its core, the Best of Lincoln competition is a name recognition and brand loyalty survey.  The survey does not ask specific questions about products and services offered.  Rather it measures the public's awareness of a businesses' good overall reputation in the community.
"It is an amazing feeling to see our daily pursuit of quality customer service rewarded in such a public way."
Schrock Innovations' Papillion Service Center on the corner of 72nd and Highway 370 will have its grand opening celebration on October 16, 2011 from Noon until 5 PM.
We have a TON going on to celebrate the latest addition to the Schrock family this weekend:
Saturday and Sunday only you can recycle any old computers or monitors at NO COST at any of our Service Centers (limit 1 monitor per household)
Preventative Maintenance Checkups are on special for the last time in 2011 for $29.99 for one week only.  Bring your computer in to any of our Service Centers for 8 hours of preventative Maintenance for over 60% off the regular price!
Stop by the Papillion Service Center on Saturday or Sunday to see the 2011 Holiday Special featuring the fastest processor in the world, AMD's brand new 8-core processor
Beat the Crowds on Saturday in Papillion
If you want to beat the crowds, our Papillion Service Center at 72nd and HWY 370 will be open for a "dry run" all day Saturday the 15th.
You can stop in on Saturday before the crowds show up to drop off your computer for a $29.99 Maintenance Checkup, recycle your old equipment, or gaze upon the world's fastest processor and pre-order the 2011 Holiday Special PC or laptop.
Sunday Papillion Service Center Grand Opening Festivities
On Sunday the 16th the full festivities begin at noon with cupcakes, cake pops, and door prize drawings at our brand-new 72nd and HWY 370 location in Papillion.
Note that the food, prizes, and 2011 Holiday Special laptop and desktop systems are only available at the Papillion location between noon and 5 on Sunday the 16th!
You can bring in your computer for the discounted Preventative Maintenance Checkup or recycle your old equipment for free at any of our Service Centers in Lincoln or Omaha.
Pre-Order the 2011 Holiday Special
During this special grand-opening event you can actually pre-order one of the limited 2011 Holiday Specials with no money down.  We will only have 150 Holiday Special units available.
When you pre-order one of the 2011 Holiday Special computer systems you don't have to put any money down until the unit goes on sale in the last week of October. Just call us or stop in and say you want one and we will contact you with details when the sale begins.
Because of the limited availability of the AMD 8-core Bulldozer processors we will be ordering the Holiday Special system in groups this year.  Our goal is to minimize the time you wait for your unit.  Presently wait times can be up to 30 business days from the time you pre-order.